Giving Back: New Horizons of North Texas
A percentage of every registration will support educational programs for local at-risk youth.
Last year I had a chance to speak to the students at one of the local schools New Horizons of North Texas was partnered with and I couldn't help but think how much they reminded me of myself and my story. Not that long ago I was right where many of the kids where and dealing with some of the same issues. Issues of poverty, substance abuse in my family and community, being raised in a single parent home yet what made the difference in my life and my brothers and sisters all of whom went on to attend college? Education and expectations from my mom were crucial but it was also the support of the community and after school programs just like this one. Therefore the decision to partner with New Horizons of North Texas was an easy one. Their values and program aligns 100% with our vision to empower growth and shape the future of learning.
So as you register for training at TrainUp.com and empower you own personal growth you can take pride in knowing you are impacting the lives of so many others. Thanks for helping TrainUp.com give back.

About New Horizons of North Texas
New Horizons of North Texas is a 501 (c)(3) nonprofit organization dedicated to helping at-risk children and teens growing up in environments of poverty, academic failure, and hopelessness. As a result, we are on a mission to tell kids a different story!
Some of the most vulnerable members of our community are provided with the opportunity to choose a different course for their lives through the variety of our no-cost programs.
As an affiliate of New Horizons Programs, Inc., New Horizons of North Texas serves the Dallas-Fort Worth Metroplex through after school tutoring and mentoring. Our afterschool learning communities emphasize our core values of honesty, integrity, and personal responsibility in daily character education lessons and mentor relationships.
By God's amazing grace, New Horizons now includes eight different programs that operate throughout the year providing more than 60,000 hours annually of tutoring, mentoring, and faith to over 500 at-risk youth in Southwest Florida and North Texas.
As you register for training at TrainUp.com and empower your own personal growth, you can take pride in knowing you are impacting the lives of so many others.
Success Stories…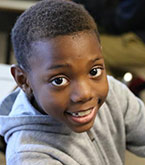 Jayshawn is being raised by a single mother, this family recently relocated to Dallas after they lost everything in Hurricane Harvey. The boy's mom expressed some financial needs to one of our site managers who was able to then reach out to her community of generous friends and family members asking for donations–because of the generosity of New Horizons supporters, they were able to completely pay for a full month's rent for this family. And another volunteer stepped up and provided groceries and gift cards.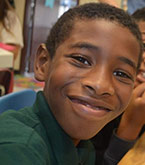 Elijah is a 4th grader who is growing up without his father. His dad is currently incarcerated, and Elijah desperately needs the support and mentorship provided by New Horizons. Because of the academic support he receives through our program, Elijah made the A/B honor roll last quarter and his teacher told us how much he is excelling in her class. New Horizons is telling Elijah a story of academic success and confidence.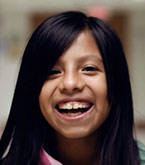 A few years ago Tiffany was adopted out of a situation of neglect and abuse along with her two younger siblings who also attend our program. Last year her adoptive parents went through a divorce, which left Tiffany very angry and she spent many afternoons with us crying or very despondent. A year later, Tiffany smiles, she sang in our choir tonight, and she is now a leader who often finds ways to help our staff and volunteers at our Super Kids Club. Over the last year, we've watched her transform from an angry and sad child to a little girl full of hope and love, and this picture perfectly exemplifies this change in her.
Did you know?
New Horizons of North Texas Provides…
Over 250 hours of mentoring to each child, each year
Reading support to move kids from below grade level to reading on grade level
Tutoring to move kids from being "off-track" to "on-track" to high school graduation
Crucial mentorship and guidance to at-risk kids that is shaping their future
Christian, character teaching and faith-building that is influencing the child's character
A positive place for each child to belong and grow in self-confidence and sense of self-worth
A safe and loving environment for kids to go after school and in the summer
After school and summer meals
New experiences through trips and enrichment activities