Manage Your Financials and Reporting for Training Providers – A True Business Management and Business Intelligence Tool
Training Orchestra takes into account every single item and associated cost involved in the set-up of a training session. As a result, as a training provider, you can not only track your profitability at a global level but also at every single session level.
Examples of cost taken into account in Training Orchestra:
Trainer cost

Room booking

Accommodations

Travel

External logistics providers

Any material resource cost involved in the classroom session
Thus, you know the exact profitability for every single training session on your schedule and appropriate alerts are generated in an automated way in order for you to take appropriate suggested actions to improve your profitability in real-time.
Also, Training Orchestra brings Training Business intelligence capabilities through advanced reporting functionalities. Using this module, you have access to any standard or customized reports to reflect in real-time your training activity's performances in terms of sales, profitability, sales staff performance, organized by site, region, sales person, customer, product catalog, etc.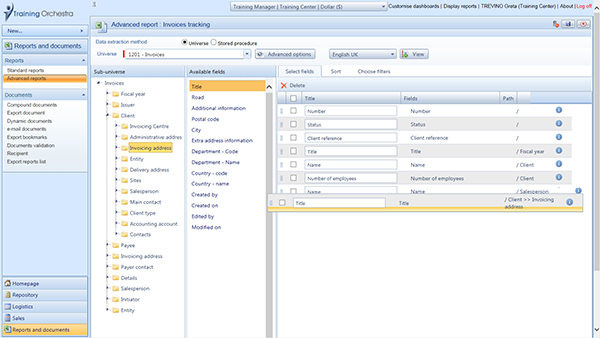 Features & Benefits
Itemized cost computation

Internal & external cost

Margin / profit tracking in real-time

Consolidated views

Trends, alerts

Real-time optimization via suggested corrective actions

Business intelligence

Standard and customized reports

KPI's

Graphical views

Turnover, profit, overall performance
Increase the Performance of Your Training Company
As a leader, Training Orchestra provides the most comprehensive Software for Commercial Training Company available in the cloud or on premises. With a back-end system covering the entire training process including CRM, sales, logistics, administrative, and finance, Training Orchestra helps the best training companies increase their profitability and train more with less.