Complete management of resources, schedules and classroom training – Optimization & Yield Management
While optimized for managing Instructor Led Training, Training Orchestra can easily complete a LMS as a back-office tool and provide a full end to end management solution for Training providers, to drive training activities, optimize scheduling, track costs and enhance productivity as well as customer loyalty.
Training Orchestra offers advanced functionalities for Commercial Training Companies as well as channel and customers Training providers allowing you to: 
Optimize training schedules for instructor led training

Manage and allocate resources: providers, instructors, material resources…

Have a global vision of the occupancy rate of all your resources

Do some Yield Management by optimizing the filling rate of the sessions and occupancy rates of all resources involved in classroom training

Manage registration and attendance: waiting list, registration, cancellation, etc.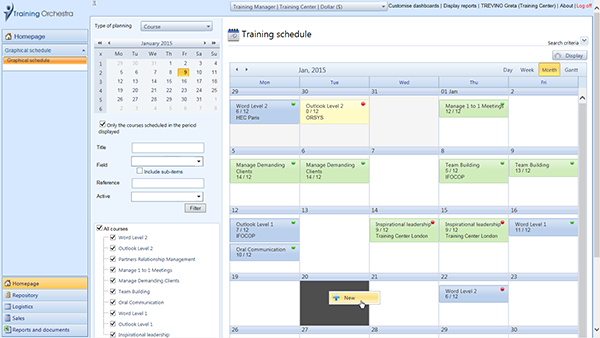 Increase the Performance of Your Training Company
As a leader, Training Orchestra provides the most comprehensive Software for Commercial Training Company available in the cloud or on premises. With a back-end system covering the entire training process including CRM, sales, logistics, administrative, and finance, Training Orchestra helps the best training companies increase their profitability and train more with less.
Features & Benefits
Logistics, Scheduling, Yield management

Training session planning

Cost tracking, Financials, Profitability

Subscriptions, waiting lists

Graphical planning & views

Conflict management, alerts

Optimal resource allocation

Portals