The culture of your company is often something that people don't think much about from day to day; however, whether you realize it or not, it is a key factor in your overall job satisfaction. Every organization has a culture that is unique and exclusive to its personnel. Even if you think your company is culture-less, guess what- that's a culture! Hopefully the values and attitudes of your company are ones that you also align yourself with and can feel proud of.
Some positive examples of corporate cultures may include a communal atmosphere, faith-based organizations, innovation-focused workplaces, or my personal favorite: a strong value placed on learning. The latter of which I'll be elaborating on by sharing my own personal experiences in this article.
A company that encourages its employees to pursue their dreams is a company that typically employs more fulfilled and dedicated people.
I know of one company that does this better than any other I have heard of, and that company is TrainUp.com. How do I know? Well, I work for them!
Our company culture values learning, and I have first-hand perspective on the impact of an employer supporting the education of an employee. I have worked at TrainUp.com now for 4.5 years, and have recently returned to University to finish my degree in marketing. It was just over a year ago when I made the decision to return to school. Since then, management and my team have supported me wholeheartedly.
When I first told our founder and CEO about my plan, I was encouraged to proceed and was even recognized at our Christmas party with the company courage award!
To quote Jeremy Tillman, CEO of TrainUp, "Though I've strived to cultivate a learning culture at TrainUp.com, I remember when Claire first approached me to discuss her desire to go back to school at the university level she was nervous. It was an opportunity to put into practice the learning principles I preach to our clients, to support the growth of the employees both formally and informally. So for me the choice to not only support Claire's decision, provide the needed flexibility and even contribute financially was an easy one!"
Jeremy's approach certainly put my mind at ease, knowing that I have been, and will continue to be, supported as I aim to improve my skills is very encouraging. It's a very refreshing concept that I think more offices should embrace. I felt safe taking on the challenge of earning a degree while working. It was this that ultimately led to my decision and made the difference between pursuing going back to school and being too afraid to rock the boat. I'm glad I felt like I was able to make this decision.
However, I admit that yes, I was quite worried about the impact my new class schedule would have on my workday. I tried to take classes mostly in the evenings to interfere less with the 8am-5pm workday. Even so, class times are not always offered when you'd like them to be. However, the team here at TrainUp have been extremely accommodating whenever I need to rush out of the office a few minutes early to get to class on time. I have the flexibility to complete essential work tasks and projects off-hours when needed, which helps me manage my time to get everything done.
TrainUp even allowed me to complete my university requirements here at our office!
I completed my required internship in our offices by taking on a special marketing project. I contributed t
o our KnowledgeFlo  marketing initiative while earning college credit for doing what I love for this company! TrainUp even humored me by allowing me to conduct anonymous employee job satisfaction surveys within our office as a research assignment for my organizational behavior class. The openness and participation of my employer impressed several other students when I presented this project to my class. They admired how willing my company was to help me throughout my educational journey (Not to mention that the surveys came back from the other employees with very high satisfaction ratings!). It was at that moment I realized that this is indeed something special, and that not many other companies would be this accommodating. Our culture truly is amazing.
My company has been a huge positive influence in my education, and this creates loyalty.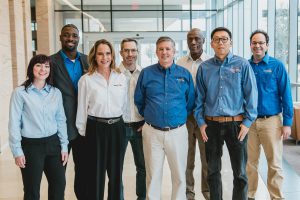 The team here inspires me, and in turn I am using the knowledge I gain through my education to do a better job for them, and to advocate for my company. TrainUp.com has shown me that I am valuable and worth this investment, and I simply could not want for more than that. The appreciation that I have for TrainUp.com is a driving force in my passion to work hard and give my best efforts to this organization.
I am extremely loyal to this company and its mission to develop people. It has become very clear that this mission is as internal as it is external, helping both clients and employees alike. Even our corporate social responsibility program, TrainUp Gives Back, aims to secure educational resources and mentoring for at-risk youth in our community!
Take it from me, education is an important part of corporate culture.
Education is important to us because we are a training company. However, regardless of your industry, Education being a part of your office culture is an important facet in an employee's overall well-being. So, what are your learning goals? Does your company encourage those goals? Whether they do or don't, how does it make YOU feel about your company culture? How does your leadership encourage you and does it affect your work ethic and loyalty?
I know that one thing I've learned over the past year is that a culture of openness and a significance placed on supporting dreams can make a huge impact on an employee. In turn, a company that embraces this type of culture can achieve a higher rate of employee retention. Supporting employee development is what can ignite passion, help people grow, and awaken their greatness. My hope is that more companies adopt the philosophy that I have benefited so greatly from, and that more people feel encouraged, as I do, to pursue their dreams while at work.