As many of today's workforces continue to soldier on and thrive in a virtual format, companies are met with so many new areas of need. Even for workers that are used to their remote environments, a sudden global-scale transition such as the one we're experiencing right now makes it difficult for anyone to ignore the changes. Luckily, companies are becoming more and more innovative in their efforts to uphold productivity and in keeping their workers connected, and we at TrainUp.com are offering free access to our new Virtual Learning Center where you can get up to speed or stay up to speed in areas from productivity to managing remote teams.
In the aftermath of shutdowns of major cities, states and even countries in an effort to battle COVID-19, companies suddenly need to revolutionize their way of doing business. We are asked more and more frequently now, where do small business owners and managers even start when thinking about remote work dynamics?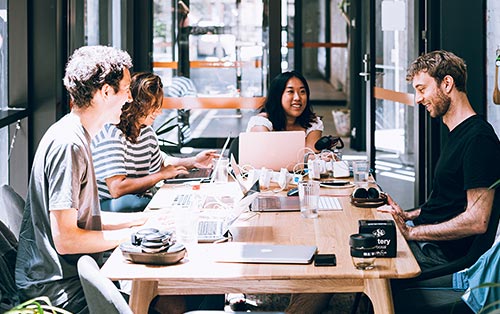 First of all, getting your first-line of managers and supervisors equipped and ready to manage their remote teams is paramount. Norms need to be established, priorities need to be set, and time needs to be managed.
But as the dust begins to settle, so does the realization that many of our newfound virtual rituals and processes are not going away anytime soon, and many new considerations and needs begin to arise. In fact, Global Industry HR Analyst Josh Bersin says: "[r]emote work is now an integral part of life. Today more than half of Americans are working at home, and studies show that as many as 40 million people will make "work at home" a regular part of their job in the future."
We couldn't agree more – And we're witnessing it first-hand, not just in remote work, but in a major paradigm shift from live in-person training to virtual live and eLearning: two highly effective learning methods and the indisputable future of training. The biggest training challenge at hand: Staying connected, staying engaged with one another, and learning from each other's successes, failures, and everything in between.
Staying connected through innovative training.
It's neither a new nor a complex concept, but it's one that we talk about every single day, with every customer, company or client calling in looking to get the most out of their training dollars — And that was before a global pandemic brought on social distancing in the workplace.
Getting your remote employees engaged around training and development is how you double the return on your learning spend, especially in times of indefinite isolation. Not only is the concept of building community around your content via real-time micro-feedback a cornerstone component of TrainingFlo, a next-gen training engagement platform, but we recognize the need for engagement is greater now than it's ever been before.
And so by leveraging our network of industry-leading content providers, expert influencers and next-gen technology, we bring to you an unparalleled offering in the training industry: The TrainUp.com Learning Center.
The TrainUp.com Learning Center
The TrainUp.com Learning Center is a free virtual training community for career professionals to learn more, stay connected and engage in free training content that is topical and relevant to today's business world.
TrainUp.com founder Jeremy Tillman explains: "The reason for releasing a free engagement community is to provide TrainUp.com users, past and present, with access to content in response to COVID-19. It's our way of giving back in light of the pandemic."
We welcome everyone to explore niche knowledge communities with free videos, free online courses, and resources centered around four critical areas of business need:
The TrainUp.com Learning Center leverages the TrainingFlo continuous feedback methodology in which users get to share their key takeaways with other users, which not only builds the human-to-human connection, but a shared learning experience. Furthermore, once users get to apply the concepts they've learned within their workday, they have the opportunity to share those stories of successes and even failures. Sometimes (oftentimes) the best learning concepts come from a user's application of the learning so we encourage learners to share and learn together.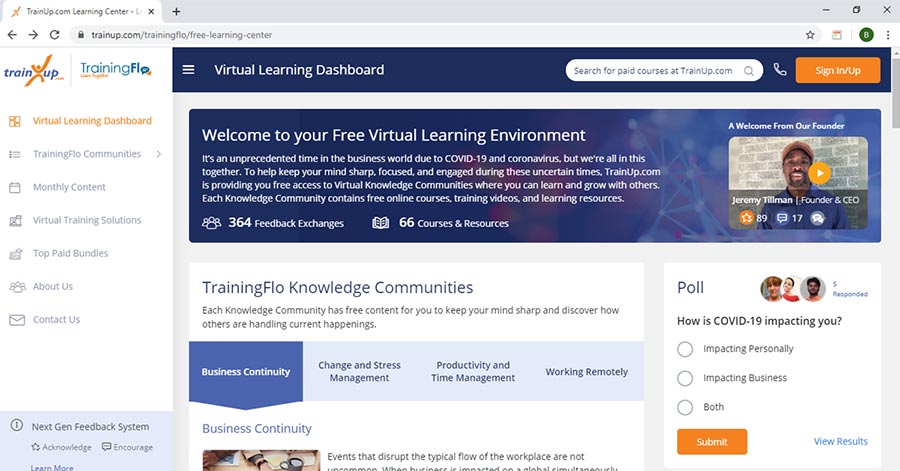 The TrainUp.com Learning Center is live and ready to help you learn, stay sharp, and grow with people like you. Check it out and share your stories today.