As our workforce continues to adjust to the changes around the globe, the time is now to embrace the technical capabilities and incredible resources available to us in training opportunities and career development. Like most businesses we interact with on a daily, weekly or routine basis, the training industry is experiencing remarkable innovation following the outbreak of COVID-19 and the guidelines associated with staying safe and working from home.

Through all the uncertainly and apprehension we're all experiencing at this time, one positive theme that is shining brightly is the ability to adapt. Businesses are being forced to innovate to retain customers and a source of revenue as social distancing restrictions and guidelines become more and more strict. On the other side of the equation, as we set our employees up to work remotely, we as businesses have to also ask ourselves: How can we keep our workers productive, learning and sharp when working remotely? 
Sure, online training is always an option — eLearning courses are interactive and highly engaging. Training videos are short and informative. But how can we recreate the collaborative learning environment of the classroom when we are unable to gather in groups? After all, don't we learn best when we learn together? 
Virtual Live training is not a new approach when it comes to live instructor-led training, but it may be the next best learning & development method you'll discover today. It's used by many corporations as a highly-effective way to get their workers trained in the comfort of their own homes or offices.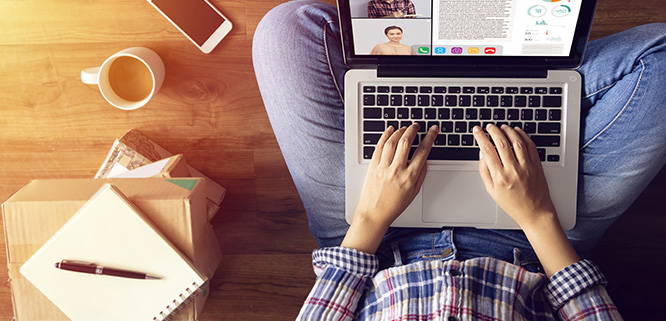 Virtual Live training is a hands-on, interactive training experience. It's a live, scheduled event taught by a subject matter expert that remote learners can interact with in the moment. It is typically NOT a recorded, recycled piece of training material (Though recordings of live remote training events are usually offered post-training to attendees and other remote learners).
Now you may be thinking to yourself: "Why haven't I done this all along?" That's a good question… Virtual Live training is not only delivered remotely and convenient but it also saves transportation costs to the learners, instructors, and ultimately, the company.
How does Virtual Live Training differ from traditional live classroom training?
Attending an Virtual Live remote training class is identical to attending a traditional classroom instructor-led class, except the instructor and students are in different locations. Learners can see the instructor and hear the instructor. They just can't shake their hand (and save your sanitizer in the process).
Virtual courses allow students to interact with the instructor, other students, demonstrations, and the virtual environment they will use to complete lab exercises. Our training partners such as Global Knowledge and New Horizons utilize web technology to connect students, via their web browser, to the virtual classroom for IT courses while AMA helps connect learners to business subjects via their upcoming remote access courses. 

How does Virtual Live Training differ from eLearning or other online courses?
eLearning and training videos are self-paced, on demand learning content. Whether they are consumed in lieu of live training, or to supplement it, self-paced training is also a highly effective way to learn, especially when remote, due to their short nature and ease of access.
Some examples of high-quality eLearning content providers include SkillSoft and BizLibrary. Content from these providers is available to individual learners as well as teams and enterprise through TrainUp's online marketplace in the form of individual courses, eLearning bundles and videos collections. 
The biggest difference with Virtual live training revolves around its live aspect, content depth and the collaborative environment it provides.
Suggested Course: AMA's On-Demand Leadership Training Library
What equipment or software is needed to tune in?
Virtual live classes require internet access, and sometimes split or dual monitors are preferred for the best experience: one to see the trainer, and the other for working on the interactive activities within the class. Split monitors are not actually required though as you will be fine just using a laptop, 
A headset is good to have also, but is also not required to communicate with the trainer. If you don't have a headset or a computer microphone, you can usually type in questions for the instructor to answer like an instant chat feature. You'll definitely want sound, however, to hear the lecture as well as participant discussions.
What if I need remote training for my entire team?
We can do that. Our on-site training services can be conducted virtually, with a remote live instructor and your learners connecting from home. We will coordinate all technology logistics and you still get all the benefits and cost savings associated with having your course delivered on-site. Contact us for more details.
We know you want options when it comes to training — And at TrainUp.com, we got you covered. We list live virtual training courses in hundreds of categories. These courses are delivered by some of the industry's best training providers.
We once stated that Virtual Live learning is the future of continuing education. That time is now, and we are standing by to help you find the training you need.