Request On-Site Training
TrainUp has helped hundreds of companies organize their customized on-site / in-house training events.

With TrainUp's On-Site Training Services, you get:
Dedicated Private Event Representative
Tenured & Award-Winning Instructor
Customized Training Curriculum
Affordable Cost Per Participant
Flexible Scheduling
…We bring the best to you!
The Top 6 Benefits of On Site Training
The added benefits of having TrainUp fulfill your in-house training needs include:
Location: We bring the best trainers to your location to train your employees onsite.
Privacy: Having training at your own facility keeps your inhouse training needs more distant from public attention.
Tailored Program Content: This isn't cookie-cutter, one size fits all training; this is a customized training solution based on your needs and challenges.
Boosts Employee Productivity & Profits: Train your staff how to make the most of their time and abilities right where they come to work every day.
Your Schedule: You choose the date, and you choose the times. Need training on a Saturday? We can do that!
Keeps Employees Up to Date on Current Company Protocols – Need compliance training? New ownership or management with some new roles added? Onsite Training is the perfect option for all of your team training!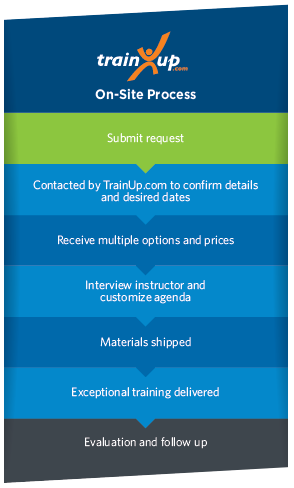 On-Site Training Subjects
Leadership and Management
Excelling as a Highly Effective Team Leader
Leadership Development and Team building
Communication
Essentials of Communicating With Diplomacy and Professionalism
How to Become a Better Communicator
Customer Service
Essentials of Excellent Customer Service
Customer Service Training
Time and Project Management
Managing Multiple Projects, Objectives and Deadlines
Time and Task Management
Interpersonal Skills Training
Achieving Career Success
Active Listening
Building Your Emotional Intelligence
Conflict Resolution
Developing a Professional Presence
Embracing Change
How to Deal With Difficult People
Managing Emotions and Thriving Under Pressure
Personal Accountability
Personality Styles
Compliance
ADA / FMLA
Ethics / Diversity
Anti-Harassment
Sexual Harassment
HIPAA / OSHA
& Many More